update by jason
we are using gates 4 and 5 of the stadium and the main entrance of the hotel to enter the show
as to guest lines we are only going to have two on saturday and thats John Barrowman and karen Gillan and johns will be at gate 4 and Karens will be at gate 5 and these will be walked in to there location when the doors open at 9 am after that time any door is good to get into the event and meet these guests .
the venue is now 80% covered in now making it much better :-)
this year there is some building work in the car park so if you park outside the hotel then its best to not try to walk around but go into the hotel entrance and walk up the up stairs one floor or go into the lift for on floor if you need to use them
the show is looking very full this year and we are all very excited so we shall see you all there
jason
LAYOUT:
I will NOT be saying specifically where any single guest will be sitting (apart from the exception below), because things can and do change over the weekend, so please don't ask!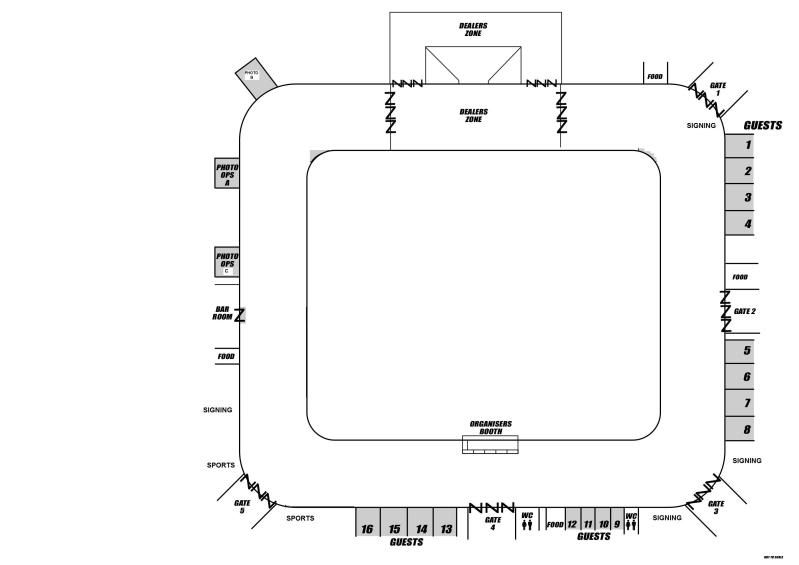 The guests with virtual queues will be in the bays (1-16).
On Friday only bays 1-12 and the signing area around gate 3 will be uses.
On Saturday most of you will want to come in and turn right to get the VTs for the big guests. The only exception to this is, currently Karen Gillan will be in Bay 13.
Cheers,
Stuart.
Edited by Queen_Sindel, 01 June 2012 - 07:19 AM.