Yes, the place is as dead as a dodo! Everyone is in London, swanning around with celebs and having a great time (probably).
But alas, some of us couldn't make it this time! Some of us are just stuck at home with no cash...or have to work...or have to do other boring things!
Or perhaps your fish has died and you need to spend the weekend cleaning out the tank! Bummer

Well, whatever the reason, come in and have a cup of tea and a biscuit! *passes out the Bourbons*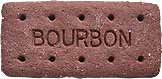 YOU ARE NOT ALONE!