Previously on Heroes ...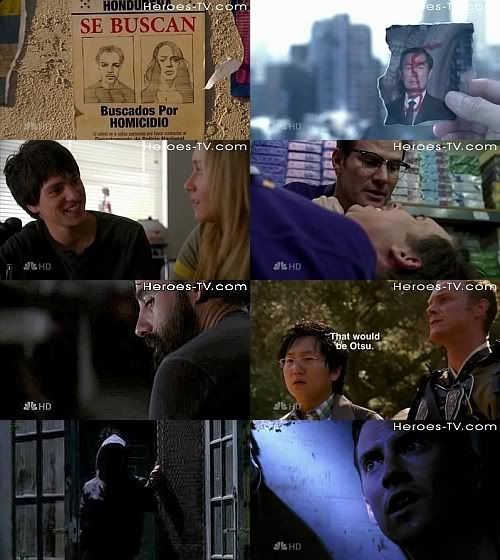 And next ...
Episode 2 - Lizards
Airs Monday October 1st
Recap
- Maya et Alejandro do a lot of running in Honduras. But not a race, they're wanted for .. something. Apparently Maya goes postal whenever Alejandro isn't around. She won't be making friends any time soon. They're heading to America for answers.
- Back in 1671, Hiro is disappointed to find Takezo Kensei is actually an undercover special-agent called Julian Sark (played by David Anders) from England. After featuring in 'Alias', he has now discovered Rambaldi's true secret was time-travel.
- Fellow 'Alias' alumni Eric Weiss (Greg Grunberg), now working under the alias Matt Parkman, is part of a gay couple with Mohinder Suresh (poor Sylar!). They have an adopted daughter, Molly, who can see the Boogeyman. He is now an NYPD detective.
- Mohinder is being sneaky and doing lectures, trying to get the attention of The Company, to bring them down from the inside. They'll fund his research into curing a virus.
- Mr Bennet (or HRG if you wish, but not Noah, that's a stupid name) is now working at Copy Kingdom. He gets a 10% discount on all copies he wants. First Primatech, now CK, evidently someone has a paper fetish.
- Claire goes to Costa Verde High School in California now. She meets a guy called West, and later on he pervs at her outside her house. That's not creepy at all is it? No. Oh and he can fly. Let's hope he's not Nathan's son, because Herocest is wrong. (Re: Hayden and Milo - NO!)
- Oh, and West thinks Claire is a 'robot'. That'd be an interesting twist - maybe Zach can come back and terminate her.
- While we're on the subject of Claire - her mother lets Mr Muggles lick her face. She's disgusting, and I just hope she's getting paid a lot. And if she doesn't stop doing that stupid Mr Muggles voice, I hope she dies.
- Nathan hasn't shaved in ages, and has a really nice beard. He's also a bit of a drunk now. And he sees things in the mirror - no, not Jessica, but some ugly burnt thing instead. Shame. He thinks Peter is alive, but evil Momma Petrelli think Peter is dead. Way to go with the support mom.
- Molly keeps drawing a symbol, and photos turn up of Momma P and Sulu with the symbol over their faces. That doesn't mean they're getting a raise. Also, Molly needs to learn that under no circumstances do you give Greg Grunberg attitude like that. I'd stop her pocket money.
- Sulu and Ando form the Hiro Welcoming Committee, but Sulu dies after a hoodie pushes him off a roof. David Cameron, if you're reading, that's one hoodie I
won't
be hugging. You're not getting my vote.
- Nathan, even when drunk, was right. Peter is not dead. He's just (fortunately or unfortunately) locked up in a cargo carrier in Ireland by insane fangirls. Some Irish (well, doubtful the way they sounded) dudes find him. He's shirtless, has a necklace with THE Symbol on it, and is chained up. He doesn't know who he is.
Don't take that as an official recap, it might not be exactly right

Edited by DavidB, 01 October 2007 - 01:53 PM.