The Ringer
Directed by
- Richard Shepard,
Writing credits
- Eric C. Charmelo & Nicole Snyder
Cast
- Sarah Michelle Gellar, Nestor Carbonell, Tara Summers, Kristoffer Polaha,
Mike Colter.
Bridget is seeking redemption, and has had a troubled life. When her "fancy pants" twin sister, Siobhan dies in a boating accident she takes over her life,
only to discover that there's a hit out on her sibling. Gellar will play both parts and viewers will get to see "a lot of different layers" to her character(s).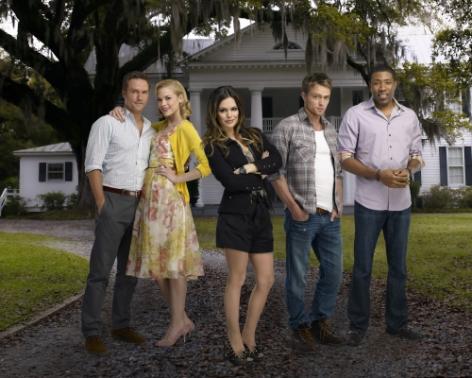 Hart of Dixie
Directed by
- Jason Ensler
Writing credits
- Leila Gerstein
Cast
- Rachel Bilson, Jaime King, Scott Porter, Cress Williams, Wilson Bethel
Fast-talking New Yorker and brand new doctor Zoe Hart has it all figured out - after graduating top of her class from medical school, she'll follow in her father's footsteps and become a cardio-thoracic surgeon. But when her dreams fall apart, Zoe decides to accept an offer from a stranger, Dr. Harley Wilkes, to work with him at his small practice in Bluebell, Alabama. Zoe arrives in this small Gulf Coast town only to find that Harley has passed away and left his half of the medical practice to her in his will. She quickly finds that Southern hospitality isn't always so hospitable - the other doctor in town, Brick Breeland, is less than pleased to be sharing the practice with this young outsider, and his daughter, Lemon, is a Southern belle whose sweet disposition turns sour when she meets Zoe. Zoe's only allies are the mayor, former football star Lavon Hayes, her bad-boy neighbor Wade Kinsella, and handsome lawyer George Tucker - who just happens to be Lemon's fiance. Zoe is out of her element and ready to pack her bags, but a surprise visit by her snobby New York mother leads to Zoe's decision to stay in Bluebell for a while, discovering small-town life and a side of herself she hadn't known was there.
Secret Circle
(Based on the book by L.J. Smith)
Directed by
- Liz Friedlander
Writing credits
- Andrew Miller,Kevin Williamson & L.J. Smith
Cast
- Thomas Dekker, Brittany Robertson, Adam Harrington, Ashley Crow, Phoebe Tonkin, Shelley Hennig, Jessica Parker Kennedy
Cassie Blake was a happy, normal teenage girl – until her mother Amelia dies in what appears to be a tragic accidental fire. Orphaned and deeply saddened, Cassie moves in with her warm and loving grandmother Jane in the beautiful small town of Chance Harbor, Washington – the town her mother left so many years before – where the residents seem to know more about Cassie than she does about herself. As Cassie gets to know her high school classmates, including sweet-natured Diana and her handsome boyfriend Adam, brooding loner Nick, mean-girl Faye and her sidekick Melissa, strange and frightening things begin to happen. When her new friends explain that they are all descended from powerful witches, and they've been waiting for Cassie to join them and complete a new generation of the Secret Circle, Cassie refuses to believe them – until Adam shows her how to unlock her incredible magical powers. But it's not until Cassie discovers a message from her mother in an old leather-bound book of spells hidden in her mother's childhood bedroom, that she understands her true and dangerous destiny.
Edited by XxXStephXxX, 27 May 2011 - 03:05 AM.