Hi everyone,
We are DELIGHTED to announce that we will be running a convention for fans of the tv series' Grimm and Once Upon a Time!

Happily Ever After will feature guests from both shows taking part in all the usual fun we like to provide at a Massive Events convention. It has to be said too, the ideas for party themes are just overflowing! Lol!

Both shows are only in their first series but by the time of the event they will have finished a second run, with Grimm already confirmed for a second season and the renewal of Once Upon A Time just a formality after amazing US ratings!

The event will be taking place at The Hilton Birmingham Metropole Hotel on 10th to 12th May 2013 giving everyone plenty of time to plan. It is also set in the hiatus of both shows enabling the guests to be available to come and have some fun with us!
The website is already online here: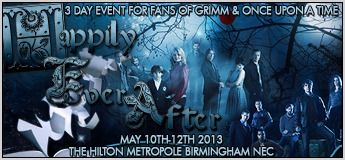 and tickets will be on sale in the online shop from Monday!
We hope many of you will love these shows as much as we do. Literally everyone in the office is a big fan of both and we are hugely excited about the event! Is it May 2013 yet?

Take care,
Mark