latest Guest Announcement Astronaut DONALD A THOMAS
NASA EXPERIENCE:
Selected by NASA Dr. Thomas became an astronaut in July 1991.
Dr. Thomas has served in the Safety, Operations Development, and Payloads Branches of the Astronaut Office. He was CAPCOM (spacecraft communicator) for Shuttle missions STS-47, 52 and 53.
From July 1999 to June 2000 he was Director of Operations for NASA at the Gagarin Cosmonaut Training Center in Star City, Russia.
A veteran of four space flights, he has logged over 1,040 hours in space.
He was a mission specialist on
STS-65 (July 8-23, 1994)
STS-70 (July 13-22, 1995)
STS-83 (April 4-8, 1997)
STS-94 (July 1-17, 1997)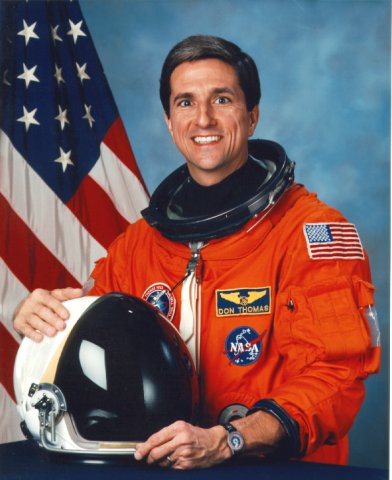 In his last assignment he served as the International Space Station Program Scientist overseeing NASA experiments performed on the ISS. Dr. Thomas retired from NASA in July 2007 in order to pursue private interests.
He is a private pilot with over 250 hours in single engine land aircraft and gliders, and over 800 hours flying as mission specialist in NASA T-38 jet aircraft.
In 1988 he joined NASA's Lyndon B. Johnson Space Center as a Materials Engineer. His work involved lifetime projections of advanced composite materials for use on Space Station Freedom. He was also a Principal Investigator for the Microgravity Disturbances Experiment, a middeck crystal growth experiment which flew on STS-32 in January 1990. This experiment investigated the effects of Orbiter and crew-induced disturbances on the growth of crystals in space.