We are very pleased to announce our latest author for Eternal Twilight 6 from INDIGO:
MARCUS SEDGWICK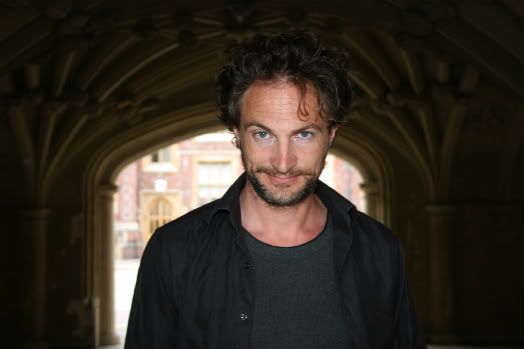 Marcus Sedgwick used to work in children's publishing and before that he was a bookseller. Alongside a 16 year career in publishing he established himself as a widely-admired writer of YA fiction; his books have either been short listed for, or won, over thirty awards, including the Booktrust Teenage Book Award, the Carnegie Medal, the Edgar Allan Poe Award, and the Guardian Children's Fiction Prize.
He now happily writes full-time and his latest novel is
WHITE CROW
which is currently long listed for the CILIP Carnegie Medal 2010.
It's summer. Rebecca is an unwilling visitor to Winterfold - taken from the buzz of London and her friends and what she thinks is the start of a promising romance.

Ferelith already lives in Winterfold - it's a place that doesn't like to let you go, and she knows it inside out - the beach, the crumbling cliff paths, the village streets, the woods, the deserted churches and ruined graveyards, year by year being swallowed by the sea.

Against her better judgement, Rebecca and Ferelith become friends, and during that long, hot, claustrophobic summer they discover more about each other and about Winterfold than either of them really want to, uncovering frightening secrets that would be best left long forgotten.

Interwoven with Rebecca and Ferelith's stories is that of the seventeenth century Rector and Dr Barrieux, master of Winterfold Hall, whose bizarre and bloody experiments into the after-life might make angels weep, and the devil crow.

A tale with two female teen narrators, a voice from the past and a dilemma for the reader: who should you trust and just what is being hidden…?

A choice: the angel, or the devil…
Marcus will be in attendance on
Sunday
. He will be taking part in a 30 minute talk and signing copies of his upcoming book
MIDWINTERBLOOD.
Have you ever had the feeling that you've lived another life? Been somewhere that has felt totally familiar even when you've never been there before, or felt that you've known someone even though you are meeting them for the first time?

'I will live seven times and I will look for you and love you in each life. Will you follow?'

In 2073 on the remote and secretive island of Blessed, where rumour has it that no one ages and no children are born, a visiting journalist, Eric Seven, and a young local woman known as Merle are ritually slain. Their deaths echo a moment ten centuries before, when, in the dark of the moon, a King and his queen were tragically torn apart. Their souls search to be reunited as mother and son, artist and child, forbidden lovers, victims of a vampire, but only a bloody sacrifice will rekindle their true love.

Beautifully imagined, intricately and cleverly structured this is a heart wrenching and breathtaking love story, but it also has the hallmark Sedgwick gothic touch with plenty of blood-spilling, a vampire and sacrifice.
Marcus will be signing in the main signing hall alongside our Twilight guests from 9am until lunch. There is no charge for an autograph in one of Marcus's books and he will be signing other items too as long as you have a copy of MIDWINTERBLOOD or WHITE CROW too. Orion/ INDIGO will also be in attendance in the dealers hall so keep your eyes peeled for their table!
www.marcussedgwick.co.uk
This is Marcus's first appearance at one of our events so lets give him a Massive welcome!