I wasnt that impressed with the stalls there were some goodies but way too much new Star Wars stuff,unsigned images,sports memorabillia and NU Who stuff
and lots of mego figures with no pants.
I took £300 to spend on memorabillia and spent about £130.
25 on Hammer Horror mags
45 on the Hammer ladies autos...though this should have been 30 quid but i dont mind paying this as i think their auto is as good as Dirk Cigarzzz Benedicts or the others charging higher and afterall Ms Munro and Ms Leon as a kid gave me a LOT of pleasure and 30 quid is a small price to pay for that
29 on a Regan head cast
3 on a Hammer Horror make up book
10 Damien signed pic and
20 on a Barbara Shelley signed pic.
i got a little head at Midlands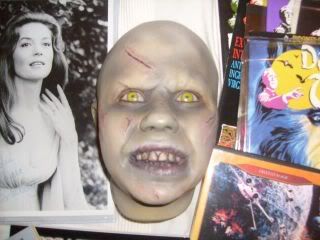 Edited by vintageSW77, 02 November 2008 - 08:29 PM.